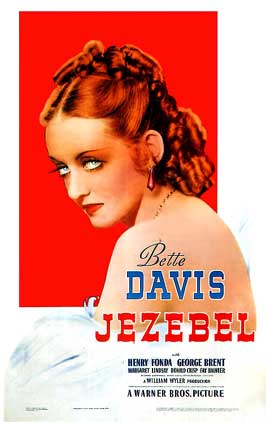 One of those all-movie TV channels on Saturday night showed "
Jezebel
," a 1938 film starring
Bette Davis
and
Henry Fonda
.
Watching the last hour of the movie, I wondered whether "Jezebel" was a rip-off of
"Gone With the Wind."
After all, the setting was the American
South
in the run-up to the
Civil War
. It featured a
conniving
woman trying to win back a
man
.
However, for the record, the play upon which "Jezebel" was based was on Broadway in 1933 -- three years before Margaret Mitchell's "Gone With the Wind" was released as a novel. The movie followed in 1939. So, Jezebel came first.
There was a
connection
between the two movies: The lead in "Jezebel" was offered to Davis as a make-up for her not being selected for "Gone With the Wind."
Actually, "Jezebel" was nominated for the
Best
Picture
Oscar
in 1938. Davis and supporting actress
Fay Bainter
each did take home Oscars for their performances.
As the credits rolled, I recognized another name: supporting actress
Margaret Lindsay
(pictured).
I recognized Lindsay as a
Dubuque native
. She was an accomplished actress, with some 88 movies to her credit, mostly in the 1930s and 40s.
Among the
leading men
with whom she shared the silver screen were Ronald Reagan, Erroll Flynn, John Wayne, Tom Mix, William Powell and Humphrey Bogart.
Perhaps her biggest success was in "House of Seven Gables" (1940).
However, what I found most interesting about Margaret Lindsay (born Margaret Kies) was this: After receiving her early education in Dubuque, she studied acting in New York and then landed parts in several plays in London.
When she returned from England a short time later, guess what? She spoke with an
English accent
. A Hollywood producer, led to believe she was English (not a Dubuquer), gave her several bit parts until she started landing bigger roles.
Lindsay died in Hollywood in 1981. She was 79.